Digital Marketing Services
18 Colours Production House: Your One-Stop Solution for Creative Digital Services
A creative and dynamic production house that offers a wide range of services in the fields of media production and IT digital services. With our innovative approach and a team of talented professionals, we strive to bring your creative visions to life and help you achieve your digital goals.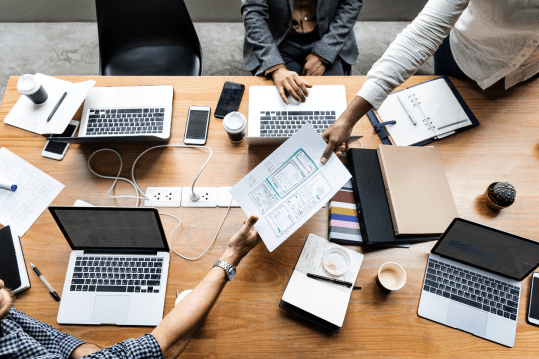 We understand the power of visuals and storytelling, and we are committed to producing engaging and meaningful content that resonates with your audience. We use state-of-the-art equipment and cutting-edge technologies to ensure that our productions are of the highest standard, visually stunning, and emotionally compelling.
Our Digital Services
In addition we also provide a comprehensive range of IT digital services to help businesses thrive in the digital era. Our digital services team is skilled in various areas, including web development, mobile app development, social media management, digital marketing, branding, and UI/UX design.
We recognize that the digital landscape is ever-changing, and we remain abreast of the latest trends and technologies to deliver cutting-edge solutions that are highly effective.
Whether you need a website to establish your online presence, a mobile app to connect with your customers, or a robust digital marketing strategy to boost your online visibility
Let's Bring Your Creative Vision to Life
At 18 Colours Production House, we are passionate about creativity and committed to delivering exceptional results. Whether you need captivating video production or cutting-edge digital services, our team of experts is here to help you achieve your goals. Contact us today to discuss your project and let's bring your creative vision to life!
Website Design and Development
We, at 18 Colours Production House have served many clients from all over the world. Our team is devoted to creating attractive and responsive websites, according to your needs and requirements.
E-Commerce Website Designing
A well-designed website is an important marketing tool, an effective medium to strengthen your brand equity and communicate with customers in an appropriate way. If you want to develop and design your own eCommerce Website with the non-corporate look, then contact our eCommerce Web Design team, who will guide you through the process from start to finish.
---
Paid ads on Social Engine and Platform
Social Media sites are now more important than ever for online brands, businesses, and professionals. We create Paid Ads for your marketing & promotions to drive Traffic, so that your Site traffic increases, Social Engagement increases, improving your branding and you get high-quality visitors who convert into loyal customers!
Social Media Marketing and Management
Social media marketing and management is a highly competitive field, so it is essential to choose the right company for your brand. You need someone who can create a distinct voice for you on social media, while authentically conveying and representing your company's personality and values.
---
Search Engine Optimization
At 18 Colours, we specialize in boosting your website's visibility through effective search engine optimization techniques. With our expertise, you can expect improved Google rankings, higher conversion rates, and increased return on investment (ROI) for your newly launched website.
Influential Marketing
We provide influential marketing solutions to businesses across the globe. Our comprehensive suite of services enables our clients to tap into their local, regional, and global business markets as well as gain a competitive advantage for their products and services.
---
Live Coverage / Sessions
We provide live coverage and sessions of your events, which means we produce your event on-air and capture it on screen. This coverage can include branding, stage design, lightings, and the run of the show. As part of the setup process, our team will work closely with you to ensure that you get a result that reflects your brand and is as cost-effective as possible.